Difference between revisions of "CLAS12 R1 Progress Reports"
Jump to navigation
Jump to search
 

Line 273:
Line 273:
 
 
 

[[201402_R1ProgressRep]]

 

[[201402_R1ProgressRep]]

 
+
 
+
 
+
 
 
 

[[CLAS12_R1]]

 

[[CLAS12_R1]]
---
Latest revision as of 16:27, 7 March 2014
The Drift Chamber Wiki at JLab
1) Dial toll free, 866-740-1260 2) Enter the 7 digit Access Code, 6074391, followed by the "#" key.

or if the DAQ computer is at the IAC
service httpd start
Clean room Prep
Clean room Construction 2011
Jlab Shipment 8/8/2011
Jlab Stringing Prep
September 2011
October 2011
November 2011
December 2011
January 2012
February 2012
March 2012
ISU - Clean Room Particle Count Log
April 2012
ISU - Clean Room Particle Count Log
May 2012
June 2012
July 2012
August 2012
September 2012
JLab Shipment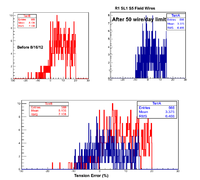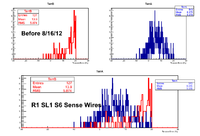 October 2012
Potting
Epoxy Ratio 2.33:1 (Epon 828 Resin : Versamid 140).
November 2012
December 2012
12/3/12 Meeting Notes with Mac and George at ISU
Construction Proceedures:
Chambers outside cleanroom should have covers to keep dust off buss wires
Cap 113 (Brown one) needs to be replaced on STB board.

Need 2 amp fuse on 5 Volt supply to pre-amps.
operate chamber STB voltage at 6 Volts
Chamber grounding (ground through HV cable)
Chamber operating procedures
1.) post amplifier in VME crate had 150 mV peak-peak noise
2.) Stop using the current ADB crate
3.) New nominal Voltages from Mac are
S:F:G = 1300:-650:
S/F = 2
S/G = 5/7
Signal output doubles every 75 Volts difference between sense and field
4.) Discriminator level for signals:
5.) Need to lower the HV trip current back to 1 microA. May increase it to 5 micro Amps when burning in.
6.) Change trip speed to 0.1 sec
ISU Tasks:
1.) Install cover on top of chamber, top could be made from home insulation sheets that has been covered with paper or plastic sheeting.

2.) Install 208 Volts for ADB crates that will be sent by JLab to replace the one they have given us.
3.) solder jumpers onto HV boards, install them in January when George returns
4.) Mylar window on S1 chamber needs to have some tape and weather stripping redone or modified
5.) Get allen head 3/32 for torque wrench, remember to replace brass screws if they are removed for some reason
6.) do not do final instrumentation, purge covers, and dust covers on the last 2 chambers until checking with JLab, the may want to survey them after delivery
JLab Tasks
1.) What are the fault conditions on the STB board when the power supply exceeds voltage/current
2.) Need signal cables with strain relief connects that have the shielding wrap grounded on the STB board but not grounded on the DAQ cabinet

3.) George will send purge covers and come back in January to install
January 2013
February 2013
March 2013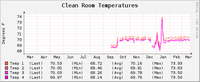 April 2013
May 2013
June 2013
July 2013
August 2013
September 2013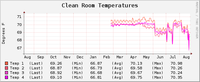 October 2013
November 2013
December 2013
January 2014
JLab shipment
Plan: Lift chambers + Pallets out of Physics and carry them to ISU's loading dock using a fork lift on Wednesday January 8 when ISU is on Thanksgiving break. The chambers will be stored inside a heated building over thanksgiving break and be ready for pickup.
Rick at Partner Steel needs to be called in December with a final date
A fork lift reservation needs to be confirmed with Wade in December.
February 2014
March 2014