JLabShipment08082011
Jump to navigation
Jump to search
Truck #1 arrives 8/8/11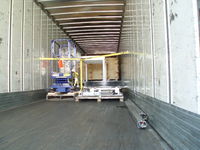 Problem unloading Stringing Fixture
The Stringing Fixture, when standing on the pallet, was between 3-5 inches too high. We laid it down on its side to get it in the dock door.
We will need to use the crane to lay the next fixture on its side or pack it so it is 3" lower in height (don't put it on a pallet but make custum skids for moving it with the pallet jack).
Pallet #1 Drift Chamber and Strong back
Jason Stoks and Larry Lim see how well the Drift chamber shipping box fits through the dock doorway.

The crane rents for $85/hr. It took 2 hours to unload 7 pallets.
Strongback tie downs to pallet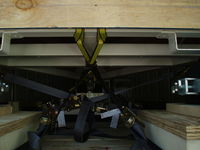 Pallet #2 Stringing Fixture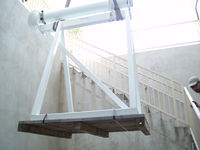 Pallet 3 Loading Platform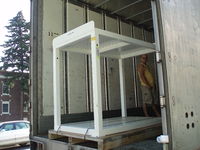 A few scrapes on the sides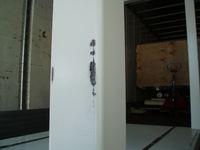 Pallet #4 Magnet
some paint has come off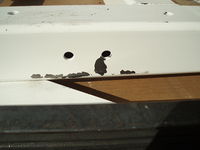 Pallet #5 Loading platform
Pallet #6 & 7 Scissor lifts