Niowave 4-2016
Jump to navigation
Jump to search
Niowave Positron Project Progress for April 2016
Brem Spectrum
Below is the photon energy distribution (from Brem & pair production) using a 2mm Pb target for two different incident electron energies; 6 and 10 MeV. The photons are 1 cm downstream of the target and intersection a large forward region.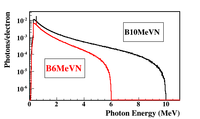 insert photon spacial distributions

Now move the scoring region downstream to a position representing the location of a NaI detector.