Electronics We Need to Collect
Jump to navigation
Jump to search

It'll hit our target and neutrons will be collected.
B n o = .1
P n = 1.04 MeV/c
1/V = 10nsec/foot => Detector must be > 5 feet from target.
Discriminating Signals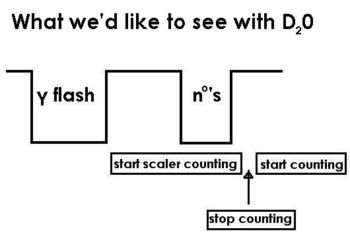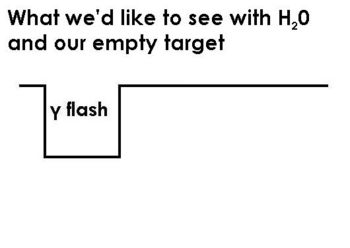 What We Need
n o detectors
High voltage
Splitters
Discriminators
Scalers
NIM bin
FAN
Oscilloscope
Delay
Cables
What Else Needs to be Done?
Round up electronics
Set up electrons
NIM bin
Mounting system
Polarization
Find as many scalers as possible.
Check Dr. Dale's calculations

Given the collimator's 17" -> can the electron which makes a neutron get through the collimator?

Will it burn a hole through the collimator?

1 KH
50 nsec pulse width
80 MA peak current
1 mm beam size
No Conduction
Radiated cooling

-These are the notes from the July 15th, 2008 meeting.