CLAS12R1ReadinessReview2011
Jump to navigation
Jump to search
Readiness Review ISU presentation:
File:08182011ISUCleanRoomStatus.pdf
1.) The project managers name and contact info (Phone and e-mail address)
Tony Forest, 208-282-4426, tforest@jlab.org
Dustin McNulty,208-282-4901,mcnudust@isu.edu
2.) A current or updated copy of their QA Plan including any checklists or forms
3.) Assembly procedures and non-conformance procedures including interfaces with JLab to resolve problems
Larry Lim is working on assembly procedures.

4.) Any other current or updated documents needed for reference prior to and during the review
R1 Stringing Manual (Updated by Larry Lim)
https://wiki.iac.isu.edu/index.php/CLAS12_R1_Stringing_Manual
5.) A project org chart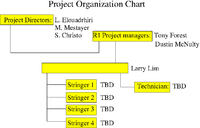 6.) Floor plan layout for staging materials, assembly, production, testing, packaging, and shipping
Bob Millers Clean room layout
File:06012011Rmiller CleanRoomLayout.doc
Design Drawings.
http://www.physics.isu.edu/~tforest/R1_Fixtures/
Basement Floor Plan for staging and storage
File:BasementRenovationDrawing 6-16-10.pdf
7.) Directions to the location where we intend to meet with the ISU project manager and his/her team
8.) Pertinent training records for technicians and staff expected to be working on the project
Record of interviewee's wire stringing test results.
2nd stringing team paired with experiences team to improved information transfer.
Scissor lift manual.
HV training.
Suspect/counterfeit items. DOE has training material for us to review.
9.) List of calibrated equipment and records of current calibrations if applicable
| | |
| --- | --- |
| Device | |
| Temp | purchased in 2009 |
| Kanomax Particle Counter ($480 to calibrate in 3 working days) | Purchased 8/2011 |

10.) Plan of how students will be used, what functions they will perform, and who will be supervising the project/operations
Students are not expected to be used in this project.
Action Items
ISU items
1.) Take control of HVAC. Agreement with M & O to have temperature set to 70 F. Establish an on call technician for repairing the HVAC at a moments notice.
2.) Name the chambers (don't put sector ID in the names)
3.) Protection cover for chamber when moving onto and off of spit. Protect it from the chain hoist chains.
4.) Black backdrop and extra lighting in stringing area.
5.) Continue to look for problems with box construction.
6.) Testing procedure (plateau curve at some point)
7.) Order the power supply below from CAEN product code WN1471X05AAC (N1471 - 4 Ch NIM Programmable HV Power Supply (±5.5kV, 300µA, 5nA res.)
8.) Monthly progress report spreadsheet. Check with Steve Christo for Activity IDs and if Larry's Template is still good.
9.) Spool wire and crimp pin in data base. Record which spool and crimp pin was used for which detector. A flag indicating that the wire was inspected. Send Steve e-mail acknowledging receipt of wire and crimp pins.
10.) Meticulously clean up wire clippings. Review how sense wire is used
11.) Ask Larry what Tom's duties are as our Technician will be doing his tasks.
12.) Ask Manufacturer for calibration procedure and how often to recalibrate.
13.) Siren light for magnet
14.) Visual feedthrough inspection
15.) Don't cut curtains
16.) Testing sense wires, scope signal type training
17.) HVAC, 30 x 30 filter supply, thermostat in middle clean room
18.) Larry Lim writes weekly progress descriptions in the wiki.
19.) Dial indicator measurement of endplate deflection before and after stringing. Several rails attached to strongback with location holes and can reproduce mounting the dial indicator.
JLab items
1.) Shipping procedure for return (temp and pressure controls)
2.) Pre-Tension release procedure from George (may already be in the manual)
3.) HV conditioning procedures for initial startup
4.) Exposed apoxy, probably do nothing
5.) What should the temperature alarm threshold be? +/- 2 F or 5???
Group action items
1.) Measure temp dependence of wire tension
2.) Stringing checklist ONE manual
3.) MySQL will be used. Make final data base decisions on what information is in it; Tension, batch, shipping. wire received, wire status, chamber using wire.
4.) Another stringing manual review
5.) Daily tension re-measure procedure.