Difference between revisions of "201301 R1ProgressRep"
Jump to navigation
Jump to search
 

Line 186:
Line 186:
 
 
 

[[CLAS12_R1_Progress_Reports#January_2013]]

 

[[CLAS12_R1_Progress_Reports#January_2013]]

−

 
−

=2/4/13=

 
−

 
−

Goals:

 
−

 
−

:number feedthrough on S3

 
−

:install S2 onto A-frame

 
−

:make protective covers for S5

 
−

 
−

 
−

Installed S2 onto A-Frame along with stringing rail and Magnet.

 
−

 
−

Half of the feed-throughs were numbered

 
−

 
−

Finished top cover for S5, crimp pin covers will be worked on tomorrow

 
−

 
−

 
−

=2/5/13=

 
−

 
−

Goals:

 
−

 
−

:Finish numbering feed-throughs on S3

 
−

:finish constructing crimp pin covers and window cover

 
−

:Install "new" stringing machine on S2

 
−

:re-string 5 bent wires from S5

 
−

 
−

=2/6/13=

 
−

 
−

Goal:

 
−

 
−

:pot S3 wires

 
−

 
−

=2/7/13=

 
−

 
−

Goal:

 
−

 
−

:remove S5 from A-Frame

 
−

:purge inside of S3 with nitrogen to remove particles before moving to clean room

 
−

:place S3 on floor of clean room for pre-tensioning

 
−

:Level A-frame for S3

 
−

 
−

 
−

=2/11/13=

 
−

 
−

Goal:

 
−

 
−

:remove S5 from clean room

 
−

:Level A-frame

 
−

:Install S3 pre-tensioners

 
−

 
−

onto A-Frame in clean room

 
−

 
−

=2/12/13=

 
−

 
−

Goals:

 
−

 
−

:Finish installing pre-tensioners on S3

 
−

:mount S3 onto A-frame

 
−

:Clean the Clean room to prepare for stringing (vacuum shavings from hoist, clean all wall surfaces, clean A-Frames and DC strong-backs, lifts, both white tables, ladders, computer keyboard)

 
---
Latest revision as of 19:04, 11 February 2013
01/02/13
The HVAC high temperature alarm was going off when we arrived this morning. Decreased the temperature set point on the HVAC to 66°F at 08:22. Temperature continued to increase. Decreased the temperature set point to 65°F at 09:28. Learned from ISU maintenance that there was an issue with frozen pipes and a subsequent malfunction in the building's heating and cooling system that was causing our HVAC system to compete with the building system to maintain temperatures. It is also possible that the AC unit outside was frozen. (Local temperatures were approximately -10°F this morning.) Increased temperature set point to 67°F at 11:33 and opened the garage door in the upper area outside the cleanroom to prevent HVAC system from overwork and decrease temperatures. Temperatures decreased and came within specifications for the remainder of the work day. Stringing work was halted from 07:30 to 11:30.
Sector 1 - DAQ Scintillator timing information now working (Ch. 96, 99, 104, 105, 106, 107)
Quad coincidence in all AND mode close to working, need to get a delay box for one channel so that the cable delay from the other three is compensated for on the one channel that is "faster" by 40 ns.
Drift chamber isn't putting out a normal signal to the pre-amp that's normal for gammas. Unknown what is causing this problem at the moment, may be an issue with our current triggering setup on the scope.
Sector 5 - Restringing and testing wires in SL1 that were out of spec. Rotated and aligned chamber for stringing repairs in SL2.
01/03/13
Cleanroom temperatures drifted out of spec this morning. Opened the garage door in the upper area to bring in colder air. Temperatures came back within specifications for the remainder of the day.
Sector 1 - Found that the HV supply board was not providing voltage to the Field wires. Began troubleshooting this issue.
Sector 5 - Restringing and testing wires in SL2 that were out of spec. Completed weekly Tension Trend test.
01/07/13
Finished replacing wires that were out of spec on Sector 5
Removed stringing machine and arm.
Rotated to potting position
01/08/13
Goal: Potting Sector 5
Completed potting one side of Sector 5.
Began training new stringer in potting, inspections, clean room use,...
01/09/13
Goal: Inspect potting, inspect feedthrough on next chamber (Sector 2)
Completed inspection of the potting on one side. It will cure for 24 hours and then be rotated so potting will be done on the remaining side. Inspected one side of Sector 2.
Found the following defective (feedthrough has blocked hole which can't be cleared or trumpet is damaged)feedthroughs
SL2 204-5 Bottom
SL2 166-10 Bottom
SL1 116-8 Bottom
George arrives Morning of 1/15/13 to instruct us on window and cover installation. HV boards have been soldered.
ask JLab for more wire cutters (>2)

01/10/13
Goal: Continue inspecting Sector 2's feedthroughs, organize parts for installing windows next week, begin potting final side on Sector 5, clean the clean room, then clean the top staging area..
01/14/13
Rotated Sector 5 for potting. Finished SL2 and started SL1.
01/15/13
Finished potting and inspecting Sector 5.
Inspected Sector 2 feed throughs. Found several with glue in trumpet and 4 trumpets had damage. 13 black 7 grey.
Made templates for HV and STB dust covers and mylar windows.
01/16/13
Finished visual inspection of sector 5 and added more glue to a few pins.
Finished upstream mylar window on Sector 6.
Finished numbering Sector 2 and removing feed throughs.
01/17/13
Completed windows for Sector 6.
Repaired Windows on Sector 1.
Rewired bus for Sector 1's HV section 6 & 7.
01/22/13
Goals

Glue feedthrough on Sector 2 ;Done
Finish soldering HV boards on Sector 1

Finished the above 2 tasks and
installed spade connectors on STB
finished coarse wire wrapping of Sector 1
Installed new stringer machine on sector 5
scraped S2 edges to prepare for mylar window install
rounded S2 windows
used epoxy to fill in a gap in the corner of S1
1/23/13/
Goals
Install STB and HV boards on Sector 1
Install Dust covers on Sector 1

The following STB wire locations do not have an identified jumper.
SL1: GW2_1 and GW2_2 SL2: FW14
For example
Jumper wire size "A" is used for SL2 GW2_2.
SL2- Jumper wire FW14 is size "D".
SL1- GW2_1 and GW2_2 do not have jumpers, a conductive boot was used instead.
01/24/12
Goals
Install boots on STB and HV boards on S1 and install temporary dust cover.
Screws for nylon standoffs are on order.
Weather stripping around end plates has been installed.
Final dust covers will be installed after screws have been received.
01/28/13
Goals
Install 1/2 Windows on Sector 5
Install STB & HV screws & dust covers

Installed 1/2 windows on Sector 5 Installed all screws in STB & HV boards on Sector 1
Changed flow rate to Sector 1 from 30 to 20 (measured using flow meter's black ball)
HV settings:
G:S:F=536:1500:-750
01/29/13
STB boards and boots are all installed now Dust covers have been installed on Sector 1

Sector 5 windows are installed
5 crimp pins in the nose have been bent. Shall we straighten?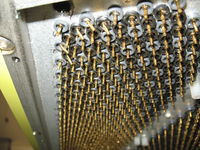 01/30/13
Goals
Straighten 2 Crimp Pins on S5
Install covers and window protectors on Sector 6 in preparation for removal from spit
remove Sector 6 from spit
Install cover on Sector 1 and move back to parked position for further Cosmic tests

completed all goals above and removed Sector 6 from clean room
Brought in Sector 3 to begin inspections before we put it in the clean room
01/31/13
Goals
install sector 6 pre-tensioners
inspect sector 3