KiwiDipole
Jump to navigation
Jump to search
The picture below show the dipoles we would like to use for the positron beam line:
More pictures:
We need to build a vacuum chamber to fit in between the 1" pole gap which will have flanges with which to attach the beam line. The chambers shown in the above pictures have the dimensions shown below.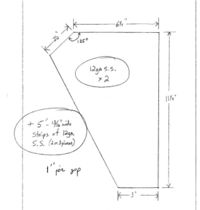 Autocad Technical drawings for the Dipole are given below in "dwg" format.
Media:KiwiDipole_AutoCadDWG1.txt
Media:KiwiDipole_AutoCadDWG2.dwg.txt
Media:KiwiDipole_AutoCadDWG3.dwg.txt
Media:KiwiDipole_AutoCadDWG4.dwg.txt
Media:KiwiDipole_AutoCadDWG5.dwg.txt