Difference between revisions of "JPOS09"
Jump to navigation
Jump to search
Line 1:
Line 1:
 
+
 
+
 
+
 

[[Image:JPOS09_Poster.jpg | 200 px]]

 

[[Image:JPOS09_Poster.jpg | 200 px]]

 
 
---
Revision as of 18:23, 12 December 2008
http://conferences.jlab.org/JPOS09/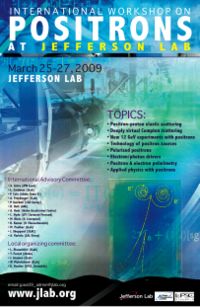 Positron_Workshop_2009 : March 25-27, 2009
By September 2009:
Positron workshop, Date and name for workshop, physics and accelerator, 2-3 days, at JLab combination of invited talks and contributed. $1-2k ISU Dan Dale contribution
Organizing Committee:
Joe Grames, Latifa, Wally, Eriv Voutier, Tony Forest.
Advisory comittee:
Pierre Bertran, Charles Hyde, ILC positron person, John Shepard ILC positron source, Krishna Kumar, Arne Freyberger, Matt Polker, Max Kline, Roy Holt, Bogdan W.,
Alan Hunt
75% physics, 25% accelerator

International Committee: Phil Cole.
Speaker: Gulio
By Aug, 18.2008: select advisory committee, propose dates, proposed names, 30 - 40 talks, 30 minute talks, 15 minute questions.
By September: Name and date for the workshop
By Oct 1, 2008 : announce the workshop, have proceedings