201203 R1ProgressRep
Jump to navigation
Jump to search
3/1/2012
Picture of R1 Chamber 2 just before installing first window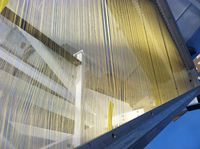 3/6/2012
Aluminized mylar windows have been installed on the first R1 chamber built at ISU. The chamber has been moved out of the clean room and has a 90/10 Ar/Co2 mixture flowing into the chamber.
Does JLab have any signal boards to send us so we can look for signals on sense wires?
The second chamber is inside the clean room having the pre-tensioners installed while it is on the floor before we mount it onto the spit. The A-frame was repositioned to reduce the interferance with the changing room.
A second A-frame has been moved onto the clean room floor and will be installed tomorrow.
Our goal will be to have two chambers mounted by Friday 3/9/2012 and begin stringing the second chamber on Monday 3/12/2012..
The clean room will be cleaned Friday afternoon because of all the equipment and drilling taking place. We have susended the use of smocks until we finish installing the second A-frame. The particle counts appear low enough to maintain the class 10,000 rating.
3/14/2012
Sector 6 is mounted on our first A-frame and ready for stringing.
The second A-frame is installed in the clean room.
Sector 5 is on the cleanroom floor and ready for pre-tensioning installation (Although we are short on pre-tensioning hardware but more is on its way).
Mallory and Marcie have finished wire wrapping Field wires on Sector 1--which is outside the cleanroom with gas flowing.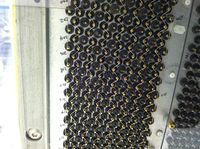 We plan to thoroughly re-sanitize the cleanroom today, replace all pre-filters, let the dust settle and start stringing Sector 6 tomorrow or Friday.
Our new Lead Stringer advertisement went out last Friday.
3/16/2012
Had to clean glue out of a feed through sense wire feed through SL 2 column 224 row 2
Before: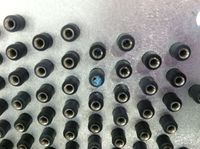 After: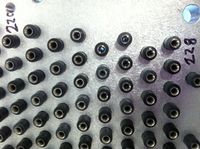 Numbered chambers inside and out. Started stringing SL2 guard wires. Strung 5 Guard wires.
3/19/12
Purges Ch 1 with a full bottle of ArCo2 90/10
bottle is at 1000 psi at 3pm
Strung 31 Guard wires (now on row 36)
Completed wire wrapping Ch 1
A-Frame Alterations
3/20/12
Strung 42 Guard wires (now on 79)
Gas usage: 500 psi / 18 hours => Bottle every 4 days if flowing at flow meter value of 80 (units??)
Bubble stop when flow meter is at 50 (units??)

Currently set flow meter to 60.
Installed dual bottle gas system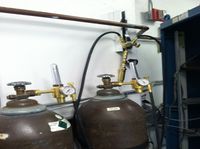 3/27/12
Strung 31 Guard wires (now on 168)
3/28/12
No guard wire today, Sector 5 Pre-tensioners are being installed.
Began HV processing the second super layer of Region 1
3/29/12
Continued pre-tensioning Sector 5. Cleaned out inside chamber and resealed window on both sides.
Strung 22 Guard wires (now on row 191)
3/30/12
Completed pre-tensioning Sector 5.
Completed stringing Guard wires for SL2 of Sector 6.
3/31/12
First R1 Sector 1 signals

Setting the HV to S:F:G=1450, -725, 520 Volts, using a 90/10 Ar-Co2 gas mixture, and a Co-60 1 nCi source we observed the following signals from an amplified sense wire
The above signals go away when the sense wire voltage is turned down to 1100 Volts. The rate will decrease if the Co-60 source is removed.
There is a 40 mV peak-peak noise level on the amplified signal.